Family guesthouse Thurnerhof***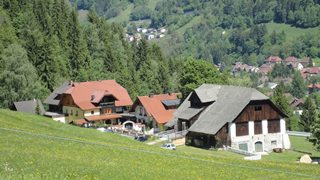 Visit the traditional Thurnerhof guesthouse in Feld am See, in a beautiful location on the Gegendtal slope, facing Untertweng/Radenthein. Thurnerhof (founded in 1951) is run by the third generation of the Scherzer family. It started as a farm and the former country inn has become a gem for a family holiday in Carinthia. Accommodation is in cosy rooms, with optional breakfast or half-board.

Enjoy the homely, cosy atmosphere. As a recognised Carinthian gastronomic establishment, we know what is important. We cook regional dishes with high-quality basic products and serve very good Austrian wines from our wine cellar.
Adults and children enjoy calling in at our restaurant. What could be more enjoyable than sitting on our cosy terrace, enjoying our culinary variety and hearing the children laughing in the playground? We do our best to meet all requirements.
16 rooms, all with a shower and WC, sitting corner, satellite TV and mostly with a balcony

Breakfast buffet with:
* Jam, honey, chocolate spread
* White rolls, dark bread, various wholemeal breads
* Sausage, cheese, bacon, ham
* Fruit basket, muesli, yogurt
* Tea bar, juices, Mirnock water form our own source
We invite you to treat yourselves... whether it is game, steaks, fish or more unusual creations from our kitchen, you will not be disappointed. We have suitable rooms for all kinds of family gatherings, from small celebrations to large weddings, in the cosy dining room for 25 people or in the hall with a dancefloor and a beautiful view into the valley, for 60 to 90 people.