Holiday bungalows Seehäuser Brennsee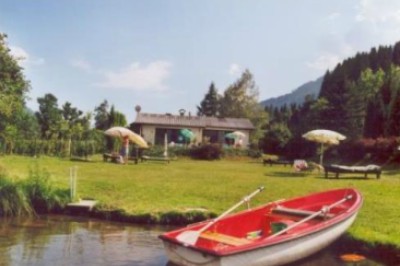 This beautiful spot right by the lake promises a relaxing stay. Our two cosy bungalows afford an unique panoramic view towards Feld am See. The property boasts its own lakeside beach with a well-tended lawn and a large terrace.There is a surfing and sailing school nearby. It is ideal for fishing. It is just 2 km from the centre of the family sports village Feld am See.
Amenities: Two 45m² bungalows, for 2 adults or for 2 adults and 2 children, fully-equipped kitchenette, living and dining room with fireplace, 2 bedrooms, WC and shower, bed linen, towels and tea towels, satellite TV, deckchairs, grill facility, table tennis, 2 rowing boats (payable), parking spaces. Ideal for two acquanted families.